Carbon Fiber Made Accesssible
UltiMaker Method X Carbon Fiber is the ideal solution for replacing custom metal parts and assemblies with 3D printed carbon fiber composites. Ready to go out of the box with the highest accuracy and repeatability.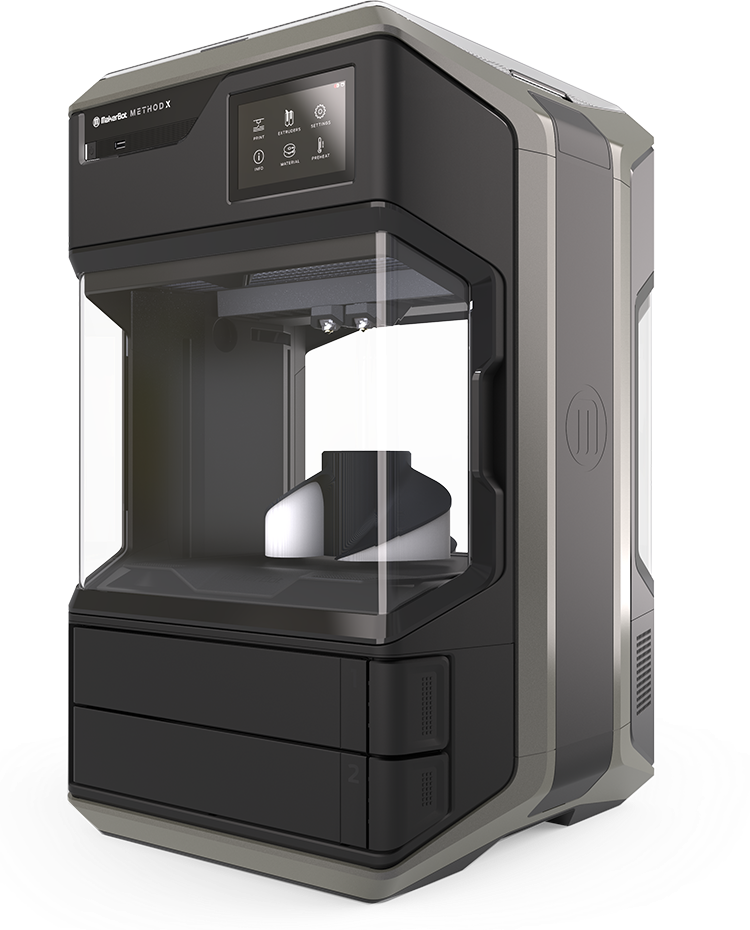 The UltiMaker Method X Carbon Fiber 3D Printer produces strong, heat-resistant carbon fiber and other engineering-grade composite parts like never before with measurable dimensional accuracy and dissolvable supports all with the power and ease of the UltiMaker Method series.
PLA
Rigid and glossy parts for quick and easy, office-friendly prototyping
Tough PLA
Durable, TOUGH parts, office-friendly printing
PETG
Chemical and moisture resistance and durability
Nylon
High abrasion resistance for industrial applications
Nylon 6 Carbon Fiber
Print Strong, heat-resistant metal replacement parts
Nylon 12 Carbon Fiber
Print Strong, heat-resistant metal replacement parts
ABS
Traditional ABS for popular prototyping and manufacturing applications
ABS-R
ABS with improved performance and water-soluble support material
ASA
UV and moisture resistance for demanding outdoor applications
PC-ABS
Engineering-grade material with a high heat and impact resistance
PC-ABS-FR
A flame retardant version of PC-ABS featuring a UL-94 flammability rating of V-0
VECT thermal regulation system
Actively heated chamber
Patented VECT™ 110 Thermal Regulation evenly heats and controls the print environment leading to parts that are 2x stronger on the z-axis, and 2x more accurate across the board. (Variable Environmental Controlled Temperature)
Metal replacement parts
Nylon Carbon Fiber
UltiMaker Method X Carbon Fiber produces dimensionally accurate parts in Carbon fiber reinforced nylon – optimized for high strength, stiffness, and heat resistance making it ideal for structural applications and metal replacements.
Print strong, heat-resistant metal replacement parts
Rigid metal frame
A structurally-optimized metal frame runs the full length of the body to offset flexing. Less flexing means more consistent prints with better part accuracy and fewer failures.
The 1C Composite Extruder
Engineered, optimized, and tested to withstand abrasive composite materials for maximum lifespan.
6-in-1 Modular Performance Extruders
Quickly change between material groups, preventing cross-contamination.
5" Capacitive Touchscreen
Access an intuitive step-by-step setup and real-time controls and intel on your jobs.
CloudPrint Software
For your Method series printer
Secure and easy to use, CloudPrint is the slicing and printer management software that will get you from CAD file to printed part in no time using a seamless workflow. Completely free when used with any Method series printer.