Versatile 3D Printing
Built to maximize uptime with great print results and a large build volume, the UltiMaker S5 delivers best-in-class technical specifications for a desktop 3D printer.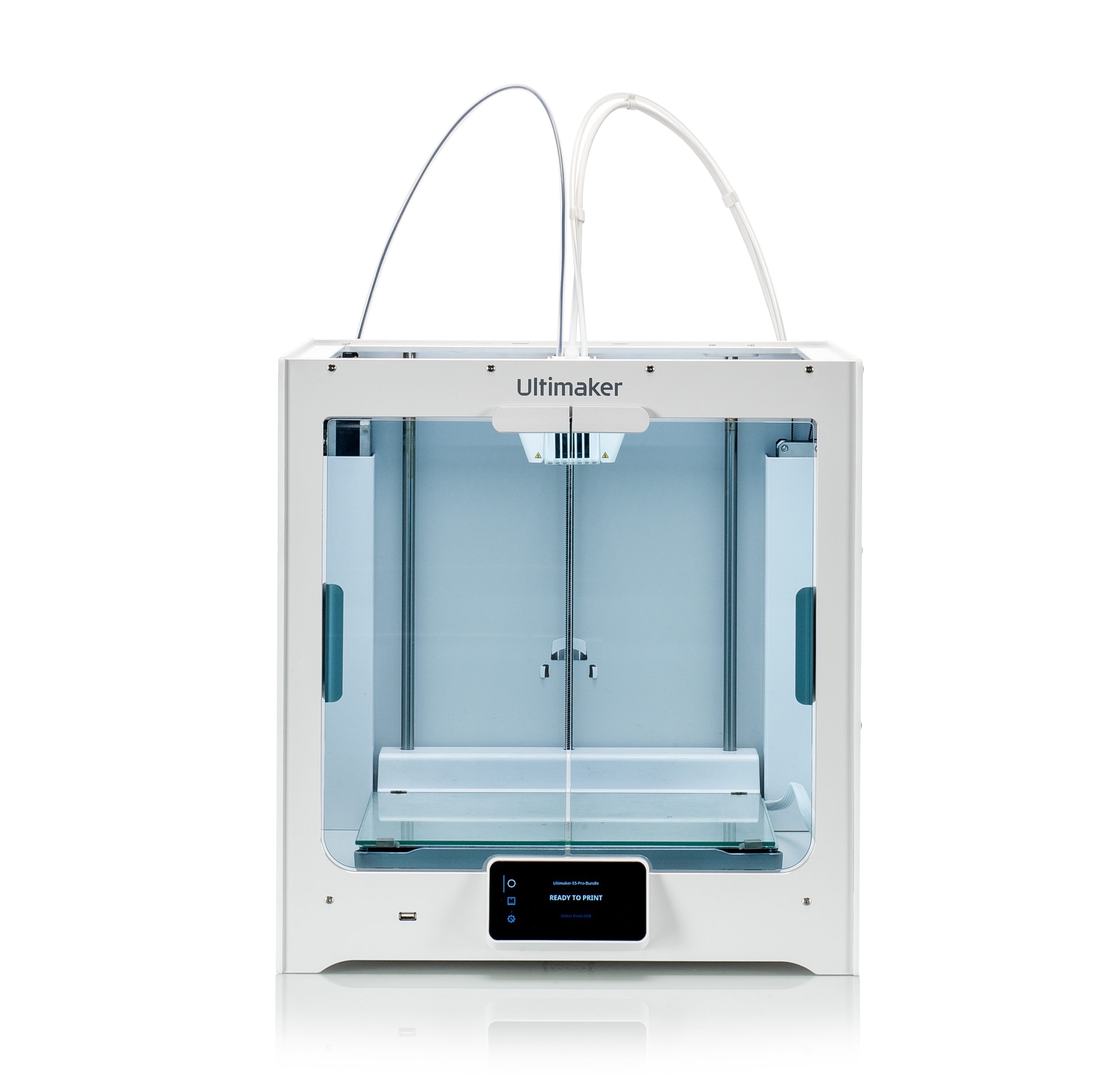 Discover the easy-to-use desktop 3D printer with a large build volume that delivers accurate, industrial-grade parts, time and again. With simple setup, high uptime, and reliable dual extrusion, UltiMaker S5 is the complete professional 3D printing solution.
ABS
Ultimaker ABS (acrylonitrile butadiene styrene) is formulated to minimize warping and ensure consistent interlayer adhesion. ABS material is a great choice for creating functional prototypes and complex end-use parts.
BAM Breakaway
Ultimaker Breakaway support is easy and quick to remove. It leaves behind a smoother quality finish than other support materials, with no further post-processing needed.
CPE
Ultimaker CPE (co-polyester) material is an ideal choice for 3D printing functional prototypes and mechanical parts. This filament is formulated for chemical resistance, toughness, and reliable dimensional stability.
CPE+
Ultimaker CPE+ material is chemical resistant with high dimensional stability, with the added advantages of increased temperature resistance and higher impact strength compared to regular CPE.
PAX Nylon
Ultimaker Nylon is a polyamide grade based on PA6/66. It features reduced humidity absorption and a longer shelf life compared to other nylon filaments. Able to withstand significant mechanical stress, nylon material is a great choice for 3D printing tools, functional prototypes, and end-use parts.
PCA
With Ultimaker PCA (polycarbonate) material, print parts that are tough, strong, and retain dimensional stability when subjected to temperatures as high as 110 ºC. Our polycarbonate 3D printing material properties make it perfect for printing molds, tools, functional prototypes, and parts for short-run manufacturing.
PET CF
Use UltiMaker PET CF to create high-performance applications, from functional prototypes to manufacturing aids and replacement parts. UltiMaker PET CF comes in multiple colors, is easy-to-use, and is versatile. Making it the perfect choice for composite printing on UltiMaker S series printers for a wide range of applications.
PETG
Easy to use and versatile, it's the best PETG on the market for Ultimaker 3D printers. Properties including good printability, toughness, chemical resistance, wear resistance, and temperature resistance make Ultimaker PETG suitable for a wide range of applications.
PLA
Ultimaker PLA (polylactic acid) is highly versatile, easy to print, and available in 11 colors. It prints reliably with high dimensional accuracy and a quality surface finish. This makes it an ideal material for a range of applications – from detailed prototypes to simple manufacturing jigs and gauges.
PPX
Ultimaker PPX (polypropylene) is a durable, chemical resistant material. It has exceptional fatigue resistance, high levels of toughness, and a low-friction co-efficient. From electrical components to living hinges, PPX is the go-to material for prototyping and end-use parts.
PVA
Ultimaker PVA (polyvinyl alcohol) is a leading water-soluble support material for multi-extrusion 3D printing. It offers you freedom and convenience: to design complex model geometries that require supports, which dissolve away in tap water.
Tough PLA
Ultimaker Tough PLA is a technical PLA (polylactic acid) material with a toughness similar to ABS. It is ideal for printing functional prototypes and tooling at larger sizes – without fear of delamination or warping. Tough PLA offers the same safe and easy use as regular PLA.
TPU
Ultimaker TPU 95A (thermoplastic polyurethane) is a flexible material, making it ideal for applications that demand chemical resistance and the qualities of rubber and plastic. For a seamless 3D printing experience, we've engineered Ultimaker TPU 95A to be easier and faster to print than other TPU filaments on the market.
The PET CF Expansion Kit includes everything you need to start printing high-performance parts on an UltiMaker S series printer so that you can get the full power of carbon fiber composite parts, combined with the seamless workflow and ease of use of the UltiMaker platform.
Metal 3D printing is easier when everything's taken care of. The UltiMaker Metal Expansion Kit for the UltiMaker S5 provides software optimizations, access to post-processing services, extensive e-learning modules, and more. These ensure you can quickly go from CAD design to metal part with minimum hassle and maximum confidence.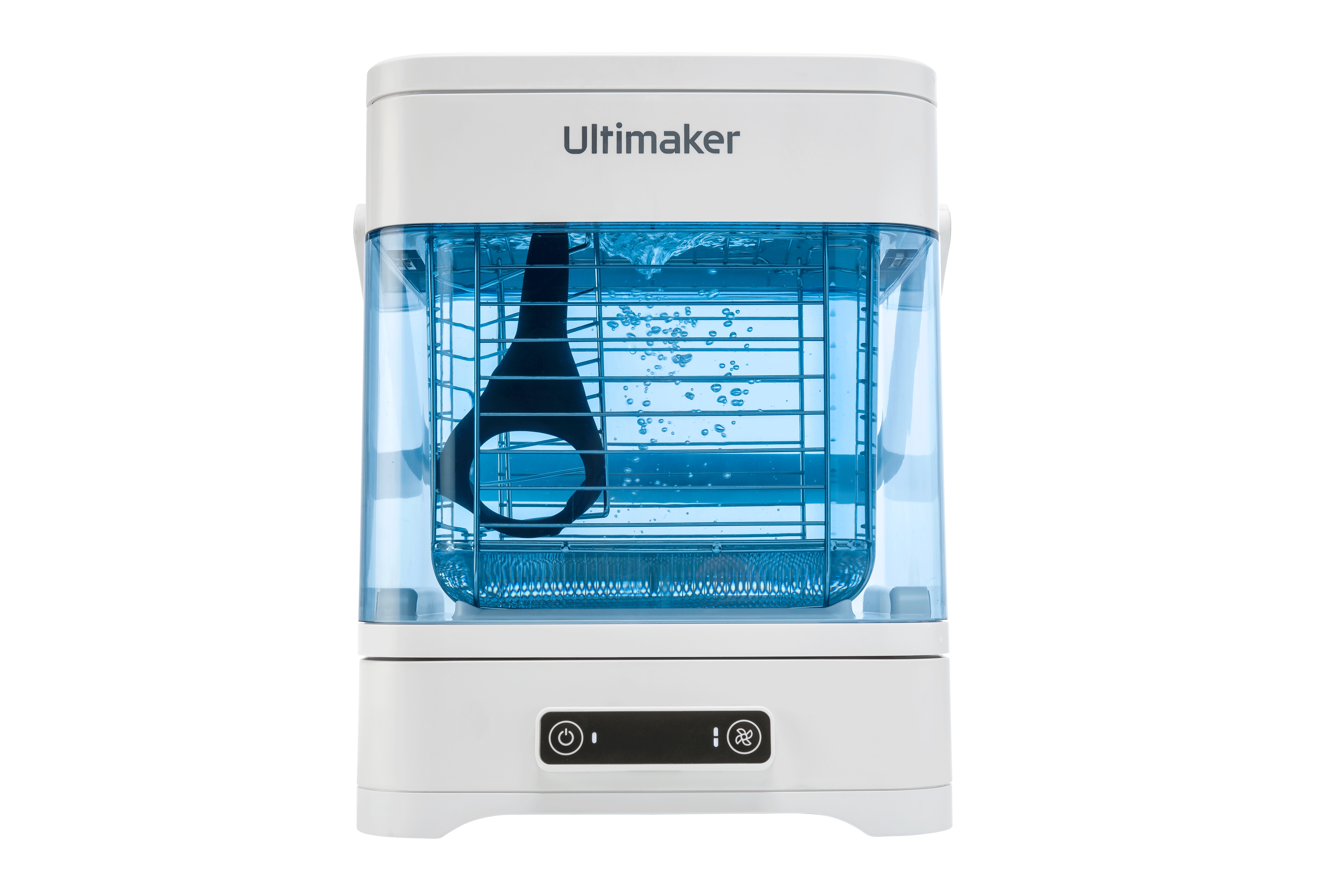 Produce complex parts and stunning visual prototypes quicker and more easily with the UltiMaker PVA Removal Station. Precision engineered with a magnetic rotor and adjustable speed settings, just add water to dissolve PVA support material in a matter of hours. As part of our 3D printing platform, this start-to-finish solution ensures faster design iterations with minimal operator time.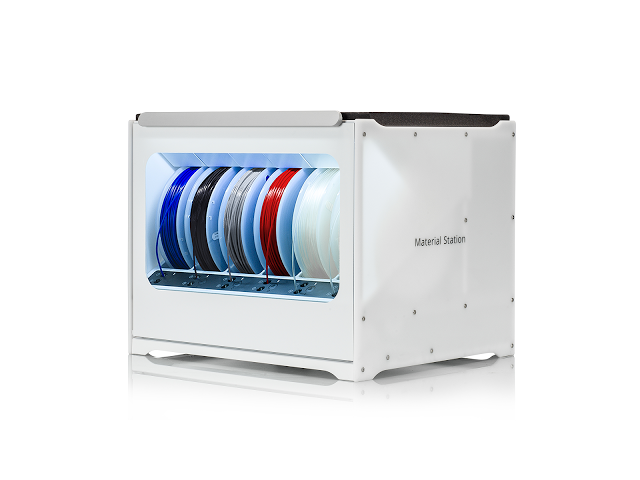 The UltiMaker Material Station redefines material handling – to unlock truly 24/7 production. Load up to six material spools inside the humidity-controlled chamber and smart features take care of the rest – composite ready feeder wheels, filament sensors, and automatic switching when a material runs out. Now you can achieve increased productivity and higher-quality production.
The UltiMaker S5 Air Manager ensures a safer working environment, providing a closed, inside-out airflow for the UltiMaker S5 3D printer. It filters up to 95% of all ultrafine particles (UFPs) emitted during 3D printing and forms a safe, physical barrier to the print area. Optimized software profiles precisely control filtering for every UltiMaker material and over 40 third-party filaments.
Cura Integration
Access the UltiMaker Cura features that speed up your workflow and increase print success – like intent profiles, easy remote printing, and more.
Digital Part Library
Collaborate like never before by building up a library of parts that can be approved and reprinted elsewhere in your organization – quickly multiplying the technology's value.